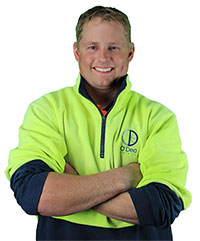 The Electricians the Mid North trust
Commercial/Industrial, Domestic – Certified, Qualified & Affordable
At O'Dea Solar + Electrical we take great pride in providing our customers with the highest level of service and workmanship.
We work with our customers to ensure they get the right product at the right price and when we leave, our customers are our best advertising.
Call the Electricians that the Mid North trusts for expert advice and installation.
Commercial/Industrial
Starting up a business, renovating, or building new premises in Crystal Brook or surrounding areas?
Don't trust just anybody with your electrical work!
We know the time and money you are investing are significant, and we'll make sure electrical safety and reliability is something you never have to worry about.
No matter the scale of your business, call us today for a free quote.
Domestic
Building a new home, adding an extension, or bought a "Renovators Dream"?
Make sure your electrical work is done safely and properly the first time.
Our team in the Mid North has extensive experience helping home owners and landlords get the most from their electrical work, and we've seen it all when it comes to re-doing old electrical work!
So don't leave it to chance – call us today!
Certified, Qualified & Affordable
Our Mid North based electricians are all fully qualified, offering the best standard of electrical safety in Crystal Brook & surrounding areas.
We are always receiving additional training to stay on top of the latest in electrical safety and ever changing technology, so you'll receive service from electricians you can trust, at a price that you'll be more than happy with!